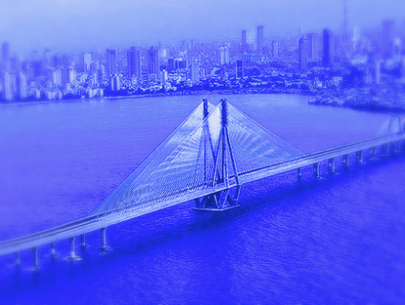 Welcome to the quarterly newsletter of SeaLink Capital Partners.

It has been a busy quarter around the world – from the volatility in markets leading up to and beyond the Brexit referendum, to the ongoing political battle within the US presidential race, to staggering recoveries in many developed economies, and increasing threats of terror acts. The interconnectedness of labor markets, policies and economies over the last few decades also implies that no region or country is isolated from events in others.

In this highly evolutionary global environment, if there has been one constant that has prevailed– it has been uncertainty. Change is the new normal and companies across the world have to be able to adapt to the new rules of the game. Being agile, having a "plan B" in place, ensuring efficient operations, and retaining liquidity are going to be the key determinants of long-term success and sustainability of businesses worldwide.

While there are repercussions of macroeconomic and political events, these are largely outside of the control of individual businesses. What they can control, however, are their reactions and readiness plans. Our discussions with management teams focus on medium and long-term strategic initiatives, execution on those initiatives, and the ability to course-correct under different scenarios.

Given the importance of liquidity in times of uncertainty, we've chosen to shine a spotlight on the importance of working capital management in this issue of our newsletter. If you have any additional insights or comments on it, do let us know.
Keep Calm and Carry on… Focusing on Working Capital

Cash is king, and even more so in times of volatility.

While all companies understand this adage, many don't pay close enough attention to working capital optimization. Resultantly, liquidity, which is required for expansion, customer acquisition, new product development, or other crucial growth initiatives, is tied up on the balance sheet.

Our team at SeaLink Capital Partners works closely with management teams to inculcate a culture of discipline in working capital management. Starting with developing visibility on key metrics that provide a holistic view of the cash requirements of the business to introducing systems and processes, which ensure that the cash conversion period is as low as possible, the SCP team works alongside management to drive a laser-sharp focus on cash management.

Click here to read more
Indian economy – The Two-year report card

A little over a month ago, the BJP-led government completed two years in office. As the anniversary drew near, a considerable amount of newsprint was spent on analyzing the overall performance of the government.

On several attributes, the government has either met or exceeded expectations. Gross Domestic Product rose 7.6% in FY 2016 making India the fastest growing major economy in the world. Inflation is nearly half of what it was two years ago; the budget deficit has reduced while foreign direct investment and foreign exchange reserves have increased to record levels.

The stock market has also performed well with the BSE-100 index increasing by 11% over the two years. Initial public offerings jumped four-fold in 2015 with 21 IPOs raising a cumulative amount of over $2 billion. Opening up of sectors such as railways, defense, insurance, medical devices to FDI, has helped attract record levels of foreign investment, which should be further augmented by recent announcements on FDI increases.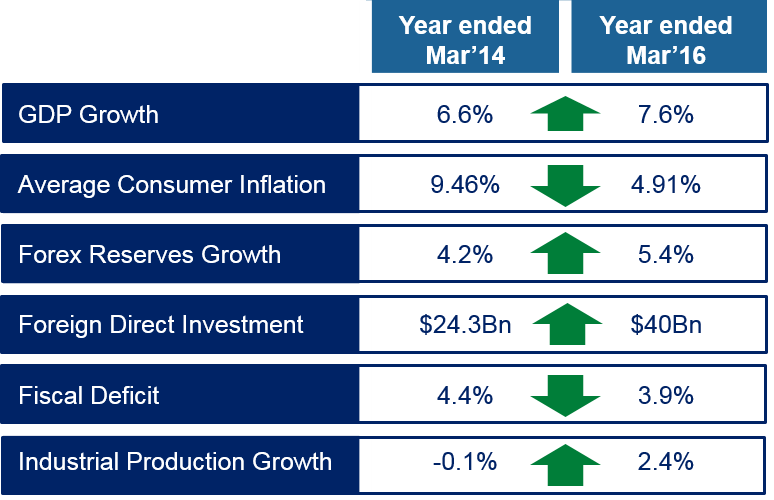 India is emerging as a critical growth area for global businesses. Jeff Bezos, CEO of Amazon, announced an additional investment of $3 billion for its India operations, demonstrating the confidence that businesses have in the continued growth of the economy. Tim Cook, CEO of Apple, announced that it would open its first non-US technology development center in Hyderabad. And, Foxconn, a Taiwanese-based manufacturer of iPhone handsets, is investing US$5 billion in a manufacturing setup in Maharashtra.

On the flip side, despite the reduction in interest rates, credit growth has limped along because balance sheets of banks have been stressed with non-performing assets. New requirements from the Central Bank aim at cleaning the balance sheets of lenders and more write-offs are likely – a bitter medicine in the short term for the longer-term health of those institutions.

Could more have been done? Perhaps. A central Goods and Services Tax (GST) is likely to add a few percentage points to India's GDP, but political differences have long impeded its implementation. During an address last month to the US Congress, Prime Minister Narendra Modi made a tongue-in-cheek reference to the similarities in "bipartisanship" and "harmonious" collaboration seen among legislators in both India and the US. Recent elections to the upper house, which have bolstered the numbers of the ruling party, and deliberations between the finance ministry and state governments have given renewed hope that the tax reform can be implemented by April of next year. The government's ability to overcome political differences will play a crucial role in its overall success.

There is also the luck factor. While agriculture makes up only 17% of the economy, nearly half of the population makes its living through farming. With two sub-optimal years of monsoon, rural incomes have been impacted. With above average monsoons forecast for this year, resurgence in the rural economy is expected.

Overall, the process of economic reforms in India has been likened to incremental steps rather than big bang. Many argue that the process taken is much more sustainable with the government trying to fix and strengthen the foundation of the economy. With three years remaining in its current term, the expectations of continued economic reforms and favorable results of initiatives already underway are high.
Central Bank Reforms – Well begun, but more has to be done

News of Raghuram Rajan returning to academia and not seeking a second term as the Reserve Bank of India (RBI) governor was disappointing to many. Dr. Rajan has been widely regarded as one of the most credible central bankers in the world. But, as he pointed out, the institution of the RBI remains rock solid and the reforms laid out during his tenure have created a platform for strong and sustainable economic growth going forward.

Over the course of Rajan's tenure, inflation in India has fallen from nearly 10% in August 2013 to 5.76% in May 2016, allowing interest rates to be reduced, although some would argue by not enough. Foreign exchange reserves have risen from $249 billion to $360 billion. After a long hiatus, two new banks (Bandhan Bank and IDFC Bank) were licensed and the groundwork for differentiated banking entities, to enhance financial inclusion, was established with approvals for 11 payment bank licenses and 10 small finance bank licenses.

As part of its goal of moving India to a lower cash-intensive society, the RBI has leveraged technology and backed two new game-changing initiatives. Currently, less than 6% of India's 10 million plus retailers have card payment infrastructure. On the other hand, smartphones penetration is expected to increase from 150 million to 500 million over the next few years. Though the United Payments Interface, anyone with a phone number and bank account can make or receive payments using only their mobile. The Bharat Bill System, a centralized platform, which will be live later this year, will allow consumers to pay all their utility bills online or through a consolidated network of outlets.

Probably the most defining aspect of Dr. Rajan's tenure has been his firm stance on the cleanup of the banking system in India. Non-performing assets on the balance sheets of public and private sector banks have crippled the lending market over the last couple of years. By coming down hard on willfully delinquent borrowers by allowing debt owed to be converted to equity and insisting on adequate provisioning of bad loans through regular audits, the RBI has steered the banking system to reduce its stressed assets. Between FY2013 and 2015, twenty-nine banks wrote off US$17 billion in bad debt. A move towards consolidation of banks is also being encouraged to strengthen balance sheets and achieve operational synergies.

The momentum of reforms established by Dr. Rajan has been pivotal for India, and the market is optimistic that his successor, who will be announced soon, will continue on the same path.
News & Updates
SCP Fellowships
SeaLink Capital Partners has a robust Fellowship program (3-6 month positions) to attract and develop high quality talent.  Over the last year, SCP Fellows have contributed significantly to the Firm while also gaining an opportunity to get hands-on experience in private equity investing in India.  

We are excited to welcome Divya Menon as our most recent SCP fellow.  Divya is currently pursuing her Masters in Business Administration from Wharton School of Business.

Prior to Wharton, she has worked in consulting focused on the Pharmaceutical Industry in the US and across strategy and operations in Menon and Menon Ltd – an auto components business in India.

She holds a Bachelors in Technology from the Institute of Chemical Technology and a Masters in Biotechnology from the University of Pennsylvania.
Our summer reading list
Summer is synonymous for more time for reading and reflection, and often returning to some treasures from earlier years. On our list of books to re-read this summer are "Execution", by Larry Bossidy and Ram Charan; "The Goal" by Eliyahu Goldratt and Jeff Cox; and "The Old Man and the Sea" by Ernest Hemingway.

The best strategic plan in the world is good for naught without a laser-sharp focus on implementation. In Execution the authors emphasize the discipline of getting things done, and done right, as the most important job of a leader. In The Goal, the authors describe the Theory of Constraints – where there is always at least one factor (the weakest link) that slows down an organization from achieving its goals, and introduce frameworks to address it. The old classic, Old Man and the Sea, shows the courage and resilience of the human spirit in the face of continuous adversity and uncertainty. Despite the odds stacked against him in every way, with ingenuity and sheer doggedness, the old man persists in his pursuit. We think there are some great lessons for business leaders in times of volatility from each of these books.